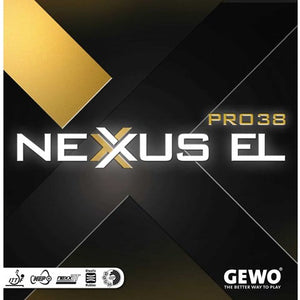 GEWO Nexxus EL Pro 38
Regular price
$49.99
$0.00
Unit price
per
MORE DETAILS ABOUT THE PRODUCT
GEWO Nexxus EL Pro 38 - what a feeling, precision at it's best! Great feel, spin, and speed. Sound on!
The GEWO Nexxus EL Pro 38 is the perfect combination of maximum surface grip, speed, spin, and control. The GEWO Nexxus series is a line of modern-day offensive table tennis sponge designed for the high spin, and power play of today's professional table tennis game. This rubber is engineered to produce high-performance results from the new ABS 40+ ball.
The Power Package of the Nexxus series Maximum dynamics and a soft feel spin trajectory combined with enormous catapult effect are the prime features of this modern day offensive rubber. FLEX-TEC technology provides for maximum speed, while the DGC40+ 2.0 top sheet guarantees consistent and reliable coupling when the bat hits the ball., especially if used with maximum sponge thickness of 2.3mm and all the power you need for modern spin-offensive playing styles. This rubber produces absolute spin, soft touch, and perfect ball contact feedback. It combines the classic features of a soft rubber, blocking, pushing, touch play, with the extreme catapult and offensive speed needed to compete at a high level.
• Higher trajectory, with a focus on precision, and fantastic touch and sound effect with a large safety window.
• Suitable for modern offensive players preferring, softness, touch and a reliance on speed when needed.
• For players focusing on spin-rich play, placement, and precision.
Due to the arrival of the new ABS 40+ ball into international competitive play, rubber top sheets had to be adjusted accordingly to maximize new performance demands from the professional player. The latest ball generation produces less rotation and speed. To compensate for this loss in rotation and speed, you have two options: Adjust your technique or your material. GEWO aims at supporting the necessary physical adjustments with innovative solution approaches - a thin, high-grip top sheet (nexxTT) compensating the loss in speed and rotation with its inherent dynamics and higher tension. Combined with a medium-pore, dynamic sponge which, depending on the performance variant chosen (XT for speed or EL for the spin), makes the Nexxus Pro Series your choice for the best energy transfer possible.
Speed: 109
Control: 101
Spin: 127
Hardness: Soft Euro 36.3-38.8 Japan 27.5-29.0
---
Share this Product
---