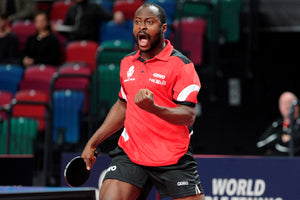 Quadri Aruna (NGR)
Blade: GEWO Aruna Hinoki Carbon OFF                  Rubber: GEWO Nexxus EL Pro 53 Hard                            Nationality : Nigerian                                                        Date of Birth : 09.08.1988                                                Highest World Ranking: 19 (10/2019)                            Style of play: Offensive                                                      Special stroke: Forehand Smash                                        Current Club: Sporting Lissabon (Portugal)
ABOUT US | GEWO USA
GEWO USA LLC was established by the long time Table tennis equipment expert Ben Nisbet.
Cooperation with a professional table tennis player was necessary for popularity of the brand within the sport and GEWO USA has came to a decision partnering with professional player Mishel Levinski.
Building a better foundation with the eyes of a player is critical for the youth and professional level of the sport. Junior programs, club programs and coaches programs are coming together to be implemented soon.
Blog Post
The GEWO Story GEWO – Table Tennis  since 1956   GEWO was originally founded in 1898 in the city of Gelnhausen by Peter Wolf who started his business as a...