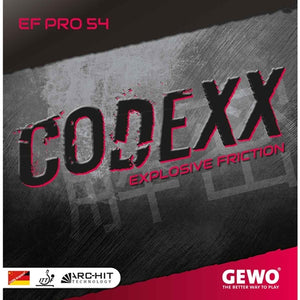 GEWO Codexx EF Pro 54 - Offensive Rubber
Regular price
$45.99
Sale price
$49.99
Unit price
per
GEWO Codexx EF Pro 54 - Offensive Table Tennis Rubber
GEWO Codexx EF Pro combines European flex rubber with Asian high spin tackiness. The EF pro 54 produces dangerous, point-winning close-to-the-table playing, creating tons of power and spin. Compared to the popular Nexxus Hard series, the new Codexx rubbers generate even more rotation, thanks to the slightly tacky top rubber sheet. With a longer dwell time, Codexx offers more control in over-the-table situations.
The Codexx rubbers series produce more spin on the ABS ball than traditional rubbers, without sacrificing energy transfer. The slightly tacky top sheet adds extra spin and provides for dangerous trajectories. With this combination of technologies, the Codexx rubbers will lay the foundation for successful offensive play.         
Manufacturer Specifications:
Ideal rubber for top-level attackers. 
Ultimate hardness combined with reasonable control and incredible spin 
Unlimited close-to-the-table power
Toxic serves, flat and spin-rich topspins, plus maximum power
For hardworking players with a good technique who love the direct and linear feel of hard sponges with tacky top sheets.
Speed: 137/100
Spin: 127/100
Control: 79/100
Hardness:  54 degree / Hard
The Codexx Rubber Series Combines Two New Technologies:  
Top Sheet: Arc Hit Technology:   In countless series of tests, the GEWO development team, in cooperation with top GEWO players, designed a solution combining a hard sponge and tacky surface for point-winning but yet controllable power. Using new gluing technology for linking the top sheet to the sponge, the revolutionary ARC Hitting Technology enables spin-loaded, curved, and long trajectories, putting your opponent under enormous pressure. Optimum energy transfer guarantees maximum speed and perfect grip.
Sponge:  The new ARC sponge technology enables players to benefit from harder sponges for more power and dynamics and curved trajectories, and catapult effect thanks to the elasticity of the special pore array. The innovative HIT Technology provides for control and elasticity. 
---
Share this Product
---